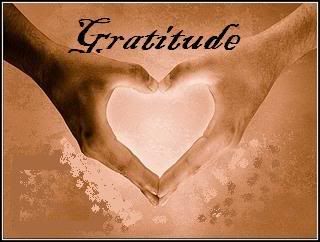 Years ago, my teacher, Ethel, gave our energy work class this Morning Song, laminated, so that each of us could stick it on the wall of our shower and sing it daily to our heart's content. While I haven't been religious (ahem) about this ritual, my version of the song did pop into my mind for me on this day of gratitude. Fortunately for you, I have no way of sharing my melodically-challenged brand of sound with you. But I would like to share the idea and the words.
Beloved, there is no difference in the energy of abundance/lack. That is the grand truth. The difference is in your perception. When you are focusing on lack and need and have-not, what do you think is the underlying emotion? Need equals fear.

A quick trick to transform your life — of course this is presuming that you will be in the embracement of that baby part of you; one does not work without the other — stop focusing on have-not. For as long as you perceive yourself need, you are being in a place of fear.

Shall we give you a beautiful song to sing every day? Indeed, you may create your own tune but we will give you the words. Are you ready?

From the God/ Goddess of my being I give forth thanks for the love that I am.
For the love in my life and the love that surrounds me, Thank you.

Thank you for the miracle of life that I am and thank you for the miracle of life I see reflected all about me.

Thank you for the gift of life that I am. Thank you for this perfect body, my health and well-being,

Thank you.

Thank you for the abundance that I am and thank you for the abundance I see reflected all about me.

Thank you for the riches and the richness of my life and thank you for the river of money which flows to me and through me, Thank you.

Thank you for the excitement and adventure of the millions of wondrous possibilities and wondrous probabilities, Thank you.

Thank you for the wonderment and thank you for the joy. Thank you for the beauty and harmony.

Thank you for the peace and tranquility. Thank you for the laughter and thank you for the play.

And thank you for the privilege of serving and sharing the gift that I am.

Thank you! Thank you! Thank you!

And, by the way, all of those things that you have given thanks for do exist in your life. Love is the truth of you and there is not a lot of lack here. Your body is a miracle and is absolutely perfect. You are abundance. How could it be any other way? And all about you in your exterior reality you are surrounded by love, by abundance, by the miracle of life. And you do know about the possible and probable realities — wondrous and limitless. You do know about peace and tranquility; about love and joy and laughter and play. And even if you cannot really grasp it in this Now, you truly are a gift.

Sing this song to your universe each day as you go forth to bathe your body, as you stand beneath the delicious flow of water and your beautiful body is warm and relaxed. The water is crystalline in property and is grandly magnifying, and as you sing forth the words, the sound embraced by the feeling in the Is-ness, in the Now of being in total abundance, you are in that reality. And as you go forth in your day, you carry with you the resonance, the energy that knows no lack.


1998©Jani King
+++++++++++++++++++++++++++++++++++++++++++++++++++++++++++++
Now, if you're like me, you might choke on a few phrases. Such as, "thank you for this perfect body." Much of my life, I've been at war with my body. Asthma, allergies, infertility, aging…each I have interpreted as IMperfections of my body. But I've found that the principle, "Fake it 'til you make it" actually works wonders. A few years ago I began to think of my body as perfect — just the way it is NOW — and began to treat it as a treasure. Lo and behold, my body has responded to my thoughts and respectful treatment. I am healthier and fitter, in my (almost) mid-40s than I have ever been. I am thisclose to loving — wholeheartedly — the perfection of my imperfection.
I'm imagining a virtual banquet with you, my bloggy friends. May blessings be in abundance, may our arms be open to receive, and may our hearts be full of gratitude for all that is.
Now please excuse me while I go stuff myself into a tryptophan coma.
photo illustration by Earthly Fire.