Lori and her daughter's birth mom have written The Open-Hearted Way to Open Adoption: Helping Your Child Grow Up Whole.
Lori has written several articles for Adoptive  Families magazine.
LavenderLuz.com was named a Top Adoption Blog by Healthline.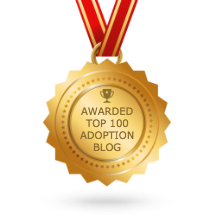 LavenderLuz.com was among the Top 100 Adoption Blogs in 2016 per Feedspot.
Lori's was named a Top Adoption Blogger by Adoptive Families magazine.
Lori is an occasional columnist on The Huffington Post.
Lori was named a Top 10 Must Read Mom by Parenting magazine and BlogHer.
Lori spoke at BlogHer12 and at BlogHer08.
Lori gives sassy reviews and turns you on to great deals at All Thumbs Reviews.
Lori is a contributing columnist each month at Mile High Mamas.com, a Denver Post site.
Lori was interviewed by ABCNews.
Lori was limericized by Furrow:
This new-agey blogger named Lori
Has insights that make me cry, "Glory!"
But she hides a surprise
Though she writes of third eyes
She's Libertarian down at her core, see?
In real life Lori rarely refers to herself in the third person.