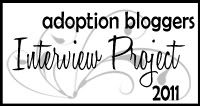 Today is Interview Project day for more than 120 adoption bloggers. I therefore introduce to you to my partner-in-project, Allison of A Few Sprinkles Short of a Sundae.
I had the chance to get to know Allison through her blog and through email. She is a Christian, a wife and a mom — by birth (the usual 9 month gig) and via adoption (638 days from placement to finalization). She and her husband are currently waiting for their second placement through the foster care system. Allison is a writer and photographer who also enjoys speaking about infertility, parenting, and her Christian testimony.
Here is my interview with her (and hers with me).
When did you start blogging and why?
I began blogging the day after I found out I was pregnant with my daughter, so April 21, 2006. It was a way to chronicle what was going on. Over time it developed into more than just what was happening with my family and I eventually closed that blog down. I began my current blog in June 2010 wanting to focus less on how cute my children are and more on issues all mothers – biological and adoptive – face on a daily basis. I also wanted to be a little more anonymous than my previous blog, listing my children by nicknames instead of full names.
What is your favorite post and why?
That is such a hard question! It depends on the topic of discussion. If we're talking adoption, Fake Kids, Real Mom is a favorite because it addresses those questions all adoptive moms hate. And 638 days is a no-brainer (when we finalized our adoption). I'll also push The Other Side of Adoption, because it was written by my college roommate who is a birthmother who placed her daughter for adoption.
If we're talking non-adoption posts, Toddlers vs. Frat Parties is a good one. Allergy Mom to the Rescue is quite funny. And my top-viewed post is Chivalry Isn't' Dead.
Okay, one more? Please? Sweating Faith is probably one of my favorite posts of all time. Okay. Now I'm done!
You came to adoption via the foster system, and are currently waiting for your second placement through DSS. How did you end up on this path?
It was not my choice, actually. Way back before we had children my husband and I applied with an adoption agency hoping to adopt from Guatemala. They talked us into doing domestic infant adoption. My husband really wanted a newborn and I selflessly gave in to that (I don't know why – he wasn't the one getting up in the middle of the night changing poopy diapers or feeding said poop machine). I wound up getting pregnant while waiting for a match, so that was put on hold of course. But when our daughter was just a few months old, I kept seeing billboards for foster care adoptions. I loved the picture; it was two large white eggs with two smaller speckled eggs. Then I heard ads on the radio, and television. I felt like I was being inundated with foster care adoption propaganda. Through prayer I felt like God was leading us in this direction. I resisted – a lot. But after talking to my husband we decided to go to an informational meeting and the rest is history. I was hooked. I wanted to bring home every child I saw.
Does openness fit in with your situation? How are you beginning to answer (or how do you plan to answer) your son's questions about his placement and his first family?
About three months after we brought our son home we got a devastating call. Biological extended family was suing the state for custody of my son. It's very long and not my story to tell, but suffice to say "the state" had deemed them inappropriate to raise him, so they sued. We had to counter sue. In that time we, through our attorney, asked if they would be willing to drop their suit if we could have a semi-open arrangement with them. They said no. But when we finally went to court we were told they wanted to "settle."
So now we have a court order that we have supervised visitation with this portion of the extended biological family. Sadly this is not a family that we can trust in any way, so all visits are supervised by us and nobody but the two people named in the court order are allowed to the visits. We see them four times a year.
The birthparents never made any attempt to seek visitation and even if they did it would be very dangerous for him, which is sad for our son, but I am very happy that when he gets older we can tell him that someone in that family wanted him and loved him, even though they could not care for him.
Right now our son is only 3 and all he knows about his situation is that "adoption means forever." I have attempted to tell him who the people we have visits with are, but I truly don't think he understands. We have told him about his first family and how they were unable to care for him so his social worker found a forever family for him, but it all seems to go over his head. But we keep the dialog open so that one day when it does sink in he can ask questions and we will provide what little answer we know.
You are in a position to answer the question many of us can't: what differences exist between parenting a biological child and parenting a child who came to you via adoption?
There is no difference between parenting a bio child versus an adopted child. I still had to potty train them both. I wipe both noses and kiss both boo-boos. I teach them and I discipline them. On a basic, every day level, both are my children regardless of how they became that way.
Yes, I did miss 10 months of my son's life, but what are a few months in the span of the (hopefully) 50 years I will parent him?
I was not one of those mothers who fell instantly in love with the child I birthed. It took time. And it took time with the child I adopted, too. When both my children were new to me (as a newborn or as an almost-toddler) I loved them, but it took a few months for me to have that overwhelming in love feeling. Yes, it did take a little longer with our adopted child, but not noticeably longer in my mind.
What, besides your family, what lights you on fire? What are you all about?
What am I all about? Well, my passions outside the three loves of my life (hubby, daughter and son) are writing and talking. I have completed one novel, have two almost done and so many more in my head! I wish I had more time to write. I would also love to break into the public speaking circuit. I aspire to "well-known" status and would love to speak at Christian women's conferences about things many women struggle with: depression, infertility, marriage, and parenting. I want people to know that they are not alone in their struggles and that if you can find just one small piece of humor in your day it's all worthwhile. I also love to share my testimony and share the love of Jesus Christ with people. It's much easier in written form (like my blog) than face-to-face, so I tend to write a lot of it down and post it.
The ability to connect with others is what keeps this world going and even one small connection between two people gives light to this weary world!
Allison had some really incisive questions for me on her blog.
To read interviews from other pairs of adoption bloggers, visit The Adoption Bloggers Interview Project 2011.