Before I get into the current post, check out my article today on Mile High Mamas : What Kind of Mother ARE You?? Would love for you to take my 4-question quiz and leave a comment there. Are you more Carol Brady or Peg Bundy?
~~~~~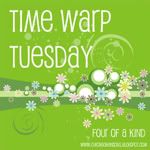 I'm participating in Time Warp Tuesday, the weekly bloghop offered by Kathy at Four of a Kind. This week's theme is Comic Relief, and our assignment was to  find a post written:
…to try to get your mind off a difficult and/or uncertain time. It might have been a fun and lighthearted …or a creative post trying to poke fun at yourself . Then write a new post on your blog about why you chose it and what has happened in your life since.
I can't remember a time when I wrote funny to break a funk, but there is one post that makes me laugh when I think about it. Not so much because I myself was that funny, but because my hilarious commenters were.
So read the post from 3 years ago about a not-overly-uncommon social dilemma. And sample these comments:
Hypothetically…. RUN! Grab your stuff, make a beeline and hope the next guy gets blamed.
This is EXACTLY why I cannot bring myself to do that in a public restroom ;-). you are a brave soul.
I think Gilda Radner could have spun…um, GOLD, from this. So hypothetically, what would this hypothetical person have done?
In fact, the comments were so good that I devoted a second post to them, complete with a Sex and the City clip.
Oh, and by the way, my life hasn't changed from that post. Hypothetically, I mean.
Click over to Time Warp Tuesday to read more comic relief posts, and maybe even to add your own.
~~~~~
Have you signed up yet for the book tour for Found: a Memoir by Jennifer Lauck?