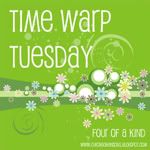 Just in time for Valentine's Day, we're revisiting posts about heart for Time Warp Tuesday, the monthly blog hop offered by Kathy at Bereaved and Blessed.
Kathy says this month that:
"Heart" can mean so many things. It's at the core (from the Latin for heart) of our physical being. It's the seat of courage (another "cor" derivative). It's our physical, emotional and spiritual center. Have you ever written about heart, and if so, in what sense?
Early in my blogging career I wrote an 8-part series on the chakras, a sanskrit word meaning "wheels of light." There are 7 major chakras of the body along the spinal column, starting with one at the base of the spine (the 1st or root chakra) and moving upward to the crown of the head (the 7th or crown chakra). The three lower ones are earthy, of matter, and the three upper ones are more spirit-oriented. The nexus of these upper and lower chakras is located at the 4th chakra, the heart center.
The Heart Chakra: Divine Power within You is my Time Warp post this month. If you're having emotional issues around trust or resentment, physical issues in your heart or lungs, trouble forgiving someone or "getting over" something, or if you have victim patterns, you may find this a helpful post.  I drew from the work of Ethel and also of Caroline Myss, PhD. The post covers the qualities of the chakra, its color, seed sound, verb, Christian and Jewish parallels, and a healing thought or affirmation you can use as you clear and tune your heart chakra. The post also includes an exercise you might do to transform and release "icky" energy, and some thoughts on why and how to forgive.
May your heart overflow with love this week. Will you be my Valentine?
Click over to Time Warp Tuesday to read more posts about heart, and maybe even add your own (even if it's no longer Tuesday).
~~~~~
What's better than a good book? Discussing that book with friends. Sign up today for the upcoming virtual book tour, The Sound of Hope.
— This painting and the others in the the Chakra series were created by Lisa Brown-Olsen.