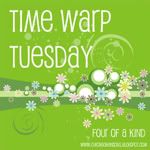 I'm participating in Time Warp Tuesday, the monthly bloghop offered by Kathy at Bereaved and Blessed. This week's theme is Blogoversaries, and our assignment is to:
Choose a blog entry from your archives that you wrote around the time of, one of your Blogoversaries. Then write a new post on your blog about why you chose the post that you did and what has happened in your life since.
I'm going back to May of 2009 when I celebrated my 2nd blogoversary. In this post I chose and explained my Appalachian Trail name, Lori Lavender Luz. And I did something Emily Post would abhor — I begged for presents. I asked visitors to my blog to let me know which of my posts had left an imprint on them and I turned the results into a Page in my navigation bar called Readers' Choice. Those comments were the best. bloggy gifts. evah.
What has happened since then — what has changed? For one thing I'm less prolific with my blog posts. My first two years I averaged 18 posts a month. In the nearly 3 years that have followed, I've averaged 11 (much of my writing energy is going into a book.) My kids are now grade-schoolers with more independence and even bigger personalities (I wouldn't have believed that possible back in 2009). And since then in my family circle I have experienced a severe accident, illness, life and death.
Click over to Time Warp Tuesday to read more posts about blogging milestones and maybe even add your own.