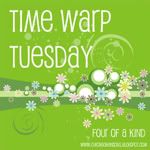 I'm participating in Time Warp Tuesday, the monthly bloghop offered by Kathy at Four of a Kind. This week's theme is Blog Beginnings, and our assignment asks us to:
Share with us your first blog entry or one of the first posts that you wrote.
Seven hundred ninety-nine posts ago (this one is #800) I  birthed W€€blesWobblog, this blog's previous incarnation, with a very short post called Blogging for the Sake of a Book.

You see, in the Spring of 2007 I read a book by Peggy Orenstein called Waiting for Daisy. I was so enthralled with it that I did what any self-respecting bookworm does, I googled it. I landed on a blog (what's a blog?? I'd heard of them but never read one)  in which this really nice-sounding lady said  she was hosting a Waiting for Daisy book tour and all I needed to participate was the book and a blog.
A book and a blog? I already had the former. I saw in the upper corner of that lady's post the words, "Create Blog."
So I did. For a month I wrote posts that received no comments, and then the book tour happened. All of a sudden I had a tribe.
It was a beautiful thing.
I will be forever grateful to Peggy, Daisy and Melissa.
Click over to Time Warp Tuesday to read more first posts and maybe even add your own.
This post is also a participant in the Finish the Sentence bloghop, "I blog because" edition. More on FindingNinee.