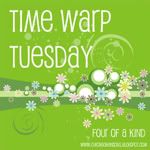 It's time forTime Warp Tuesday, the monthly blog hop offered by Kathy at Bereaved and Blessed. This week's theme is Fathering, and our assignment is to use an old post to:
Reflect on the roles that the fathers in our lives have played.
I have a fantastic dad. A quirky dad, a wise dad, a loving dad, a present dad — all this rolled up into my Dad. Four years ago I wrote an homage to him — using his own words. You see, my dad is a repeatist. He says the same things over and over and over and over and over again — good thing they are good things! I shared with the world some of the Dad-isms that my sisters and I grew up with. Here are  three that have started to fall out of my own mouth lately:
Sometimes you COUNT the votes and sometimes you WEIGH them.
Everyone is not doing it because YOU are not!
Leave things better than you find them.
Click over for more Dad-isms.
I loved this post when I wrote it and I love it today because I love my Dad. He is quite possibly the most honest and moral person I know (along with my mom). Always he does what is right, never what is merely expedient. Come to think of it, that was a Dad-ism, too.
His groundedness is matched by his reach and wit. He modeled for us to believe in ourselves and aim high. There is always a sense of levity with my dad — that is, unless my mom is trying to get him out the door on time (I know I have time to do just one more thing!).
Now I get to see him with my kids. It's like seeing your dad as your dad but instead of having little kid eyes you have grown up eyes (and no need to argue about curfew). I have a new appreciation for Dad's willingness to be there with his progeny, his ability to connect, and his desire to leave the world a better place than it was before he got here — through his own actions and through the people he influences.
I am — and have always been — one lucky daughter.
Click over to Time Warp Tuesday to read more posts about blogging milestones and maybe even add your own.