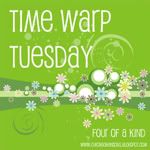 I'm participating in Time Warp Tuesday, the semi-monthly bloghop offered by Kathy at Four of a Kind. This week's theme is  Comments Please, and our assignment gives us a chance to:
…revisit a an old blog entry that you are proud of and invite others doing the Time Warp to read and give it the attention it deserves..
I chose a post called What I Craved, which was written in response to a  "Crap-I-have-everything-I-ever-wanted-and-still-I'm-not-happy" moment. It got only 3 comments  in 2007 when I'd been a stay-at-home mom with my long-awaited children for more than half a decade. I realized I was not feeling the gratitude that I, an infertile mom, thought I should be feeling. Though I loved my children dearly, I was out of sorts because I was noticing everything I LOST when I became a mom, discounting all that I gained.
So I put it all in perspective by remembering a few different eras of my life, comparing and contrasting what I had and what I craved (1) while single, (2) while married and in the throes of family-building, and finally, (3) after becoming a mom.
And with this new perspective, I was able to turn again toward gratitude. Oh, to be simultaneously able to want what you have and have what you want. My message to myself back then still holds true: Be. Here. Now. Lori.
Click over to Time Warp Tuesday to read more posts that merited more comments, and maybe even to add your own.