Advice is like snow – the softer it falls, the longer it dwells upon, and the deeper in sinks into the mind. — Samuel Taylor Coleridge
Nobody can give you wiser advice than yourself. — Marcus Tullius Cicero
I have been known to give advice. But having been raised by an advice-generous father (which ultimately turned out to be a good thing, maybe even the reason I'm in a position to give advice) I have tried not to offer unsolicited assvice. Those who live with me would surely say I've failed.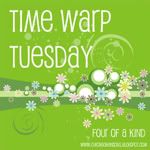 For this month's Time Warp Tuesday we're revisiting posts about advice. Kathy at Bereaved and Blessed invites us to:
Choose a post from your archives in which you wrote about advice. The blog entry could about helpful or not so helpful advice you gave or received. Then write a new post about why you chose that post and what has happened since it was written.
Last winter I was asked by Pampers and BlogHer to answer some of the common questions that newly adoptive parents have, as part of their joint Absolute Beginner series. The Crib Sheet pdf is available to read and download. But if you want to leave a comment regarding all that advice, you'll need to do so here. You can even leave your own advice if you'd like: What do you wish you'd known in the early days of your adoption? What advice would you give to someone just starting out on the adoption road?
What has happened to me since then? A few biggies:
I'll close with this little gem (meta-advice!) from an American president.
I have found the best way to give advice to your children is to find out what they want and then advise them to do it. — Harry S. Truman
Now if you'll excuse me, I need to go tell my children to watch cartoons until their brains rot.
~~~~~
See Time Warp Tuesday to read more posts about advice, and maybe even add your own (even if it's no longer Tuesday).