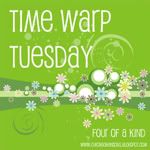 It's the split by which we measure all other events in our lives. Before 9/11 — or after? Everything seemed to change on that day. It caused a tear in our lives, our nation, our timeline.
We're revisiting posts about 9/11 for Time Warp Tuesday, the monthly blog hop offered by Kathy at Bereaved and Blessed.
Kathy instructs us to find a post in our archives about 9/11.  "Then write a new post on your blog about why you chose the post that you did and what has happened in your life since."
In 2011, 10 years after the horror, I wrote Nine Eleven, Ed McCaffrey, Stephen Covey and me.
I love that post. In writing it I got down to something raw;  I had insights about who I am at my core, what humanity is at its core. People responded from their cores, too.
Though life has continued to unfold in mostly happy ways here at Chez Luz, we have had no dramatic changes. I am still a dreamer.
Click over to Time Warp Tuesday to read more posts about 9/11, and maybe even add your own (eve if it's no longer Tuesday).
And dream along with me. Please add your thoughts to this post about human nature and how a bunch of individuals can best function as a community.