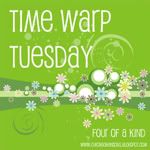 Ooooh, books. Most every blogger I know loves to write because she loves to read. We pepper our posts with references to the books and authors we loved in the past — Nancy Drew and Piers Anthony and Sydney Sheldon (don't judge!) and Jean Auel — and those that touch us now — Jim Gritter, Melissa Ford, Joan Didion, and Anita Diamont.
We're revisiting posts about "books" for Time Warp Tuesday, the monthly blog hop offered by Kathy at Bereaved and Blessed.
Kathy directs us this month to:
Choose a post in which you wrote about one or more books that you have read. The post could be a book review, a blog entry that was part of a book tour/book club discussion or just references a book(s) that you love… Then write a new post about why you chose the post that you did and what has happened in your life since.
I'm going to interpret Kathy's instructions loosely. I'm going to warp time by 11 months and direct you to this post, the closest I will ever get to making a pregnancy or birth announcement.
My Big Announcement: Not Paper Pregnant but…
Damn, it felt good to publish that post after so many years of trying.
~~~~~
So what has changed since my news?
I have written the book. I had the privilege of interviewing dozens of people involved in adoption, and their stories and insights make the book something I'm proud of. I committed to showing up to write for at least an hour every day the kids were in school, and by May I had a manuscript. Consequently, I am able to share some excerpts with you.
My daughter's birth mom, Crystal, is listed as a contributor rather than co-author. Turns out it was too cumbersome to write in the first-person plural, since our viewpoints and experiences were often vastly different.
Carolyn Savage, author of Inconceivable, has written the Foreword, thanks to Kathy introducing us. Carolyn has become a good friend and publishing mentor, and I love reading her regularly on her blog.
Several luminaries have written endorsements for the book after reading the raw manuscript. You might recognize some of them.
Even though the book won't be available until March, its page just went up on Amazon. If you have an Amazon account, would you Like my book?
My Amazon Author page was just approved. Do you want to see the Author/Contributor portrait for the book flap?
What has not changed?
The title, at first in question by the publisher, will remain The Open-Hearted Way to Open Adoption: Helping Your Child Grow Up Whole.
The cover is still under development. I have NO IDEA what it will look like.
The book will be available in hardcover and e-version. Amazon is taking pre-orders now, along with its pre-order price guarantee.
Is this sense of contentment and happiness and anticipation I'm experiencing at all like what it feels like to at last be pregnant with a takeaway?
Click over to Time Warp Tuesday to read more posts about books, and maybe even add your own (even if it's no longer Tuesday).