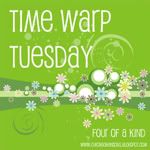 We're revisiting posts about "gifts" for Time Warp Tuesday, the monthly blog hop offered by Kathy at Bereaved and Blessed. A timely topic for the month of the Magi, fully-laden sleighs and gelt.
Kathy directs us this month to:
Choose a post from your archives in which you wrote about one or more gifts that you gave and/or received and what that experience meant to you. The gift(s) don't have to be connected to a holiday. Then write a new post on your blog about why you chose the post that you did and what has happened in your life since.
On my 40th birthday while relaxing in the bathtub, I had a vision, a hauntingly beautiful daydream. I was the honoree of some sort of  celebration, and a bunch of women came to offer me gifts. The beauty of the vision was, in part, because of the identities of these women, not to mention the meaningful presents they brought with them.
Years later, I turned that vision into a post, and long-time readers may remember it because it was on the Creme de la Creme list that year. I offer you Presence.
Click image
~~~~~
This month I am again celebrating a milestone birthday. While I used to look forward to what people would buy me, now I notice quite often that I am surrounded by gifts all year long. My body is healthy and strong. My children, also healthy and strong, continue their march from total dependence on me to independence — I get to witness their emerging wit and individuality and all that goes along with their becoming. I love my job and I am fortunate to have the time to write, thanks in large part to my husband, who is supportive of my efforts. My parents and my sisters are people I love hanging out with, and I am gobsmacked about my incredible luck in being related to them. I have an amazing circle of friends both IRL and URL.
I have everything I need in all the ways that matter. Gifts? I got 'em.
Wishing you the best kind of presence in this month of giving and receiving.
Click over to Time Warp Tuesday to read more posts about gifts, and maybe even add your own (even if it's no longer Tuesday).
Image: C Victor Posing, used with permission.