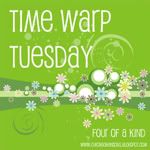 I'm a little late for Time Warp Tuesday. Unless, of course, I warp time. Let me take you to a universe where Wednesday = Tuesday, mmmmK?
Kathy's assignment this week is to dig up our All-Time Favorite post. Which is hard! Kind of like choosing a favorite child. Which isn't always hard but is often changing, depending on whose dirty underwear is on the bathroom floor at any given moment.
I once wrote a 3-part series to untangle my feelings about an encounter I had with a woman who rubbed me the wrong way. To do so I tried to see the situation from her viewpoint, obviously a fictional piece because I had no actual access to her head. Then I posted my own recollection of the evening; and finally — my selection for this Time Warp Tuesday — I got to what really bothered me about her, which turned out to be less about her and more about a character trait I don't like within myself.
Three for one. You're welcome.
Please visit Time Warp Tuesdays for All-Time Favorite posts f of other fabulous bloggers.