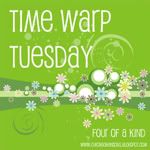 Let's see…which ultimate demise shall I choose  — "by one's own hand" or "eff-ing cancer"?
I'm talking about my options for Time Warp Tuesday, the monthly blog hop offered by Kathy at Bereaved and Blessed. This month's theme is Left Behind, and our assignment is to find an old post tells what it was like to live on after the death of a loved one. And then to write a new post explaining why I chose that post and what has happened in my life since.
Over the course of my blogging years, I've experienced two close-to-me deaths. We are coming up on the 4th anniversary of the former (and boy, are our hearts heavy), and we have passed the first anniversary of the latter.
So…….I'll take eff-ing cancer for $200, Alex.
In my post from last April called On Death and Dying, I further processed the death of my mother-in-law, my children's beloved Grandma Marshmallow (so named because she was incapable of saying No to them). She had fought cancer for 11 months, since the day the spring before when our lives were sliced into Before diagnosis and After it. The post is a collection of my observations during  the early days of grieving, of how I and others deal with death. I like the post because it's raw. With some black humor peppered in.
What has happened since? Last summer we drove through Pennsylvania and West Virginia with my father-in-law, the kids getting personalized tours through Civil War battlefields and other historic locations. This summer we again visited my father-in-law and took a few day-trips from his Boston-area home, focusing this time on Revolutionary War sites. Each time we visit, the absence of my mother-in-law is glaring.
And yet, life goes on.
As it should. As it must.
Click over to Time Warp Tuesday to read more posts about being left behind, and maybe even add your own (eve if it's no longer Tuesday).