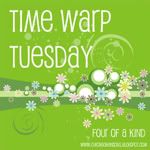 I'm participating in Time Warp Tuesday, the monthly blog hop offered by Kathy at Bereaved and Blessed. This week's theme is Mothering, and our assignment is to:
Choose a blog entry from your archives that you wrote about mothering. It can be a post where you talked about your own experience as a mother, one in which you wrote about your hopes and dreams for being a mother, a blog entry about mothers who have influenced you and/or however else you may interpret this topic.
Three years ago I tried to express the love and appreciation I have for my mom in the post The Mom Behind the Mom I Am. I love this post for many reasons:
for the photo of my Mom and me in the Mad Men era (and now that I look again, I see my baby niece in my baby face — do you see it, Tami?)
for the chance to share some family lore and our strange sense of humor
for revisiting how my Mom helped me get through the deep grief brought about by infertility
for the comments left on the post by my sisters and my aunt.
for the comments left by others to the questions I posed
What's happened since then? Well, if anything I appreciate my mom even MORE for three reasons:
because she continues to make Date Nights possible
because I'm getting closer to seeing what it takes to raise a teenager and I keep reaching new heights of respect and awe
because she's here. My husband's mother no longer is, and several of my close friends have lost their mothers since I wrote that post. (Small comfort, but if you are one who has lost a mom, I offer to abide with you on what's sure to be a wistful day and I offer this post from 2010.)
Click over to Time Warp Tuesday to read more posts about blogging milestones and maybe even add your own.