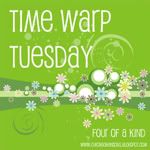 I'm excited to be part of the inaugural outing of Time Warp Tuesday hosted by Four of a Kind, in which we bring back a post from our past and look at it anew.
Our prompt this time is Waiting. I'm stretching the meaning a bit to mean waiting for the wheels of justice to turn, as they have just this week completedtheir cycle in one notorious case.
I'm going with recent history. In 2008 I wrote a post about the FLDS sect (Fundamentalist Church of Jesus Christ of Latter Day Saints) when its practices came into public scrutiny due to a raid on its compound. I was wondering what it was like for those FLDS women, who seemed scarily Stepford-ish. Brainwashed, clearly.
But then I began wondering how much of a difference there really was between those women and me. And maybe even you.
This week, the sect's leader, Warren Jeffs, was sentenced to life plus 20 years in prison for se.x.ually as.sault.ing children. So I thought my post from 3½  years ago was a good one to trot out.
You can find the post here, in which I examined the Petri dishes of culture every human lives in. Time Warp Tuesday asks, "Has your perspective changed?" Mine has not. I selected this post because I think it's wise, when I'm feeling judgmental, for me to seek the ways I exhibit the thing I'm being judgmental about.
Please visit Time Warp Tuesdays for more on this week's topic of Waiting.