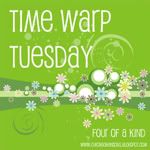 Either Hope is fickle or I am. Our relationship, especially during my days of attempting to resolve infertility, was a contentious one. I pinned so much on Hope.
We're revisiting posts about "hope" for Time Warp Tuesday, the monthly blog hop offered by Kathy at Bereaved and Blessed.
Kathy directs us to find an old blog entry :
It might be a post where you wrote about something you hoped for, how hope got you through a difficult or uncertain time in your life or more generally what hope means to you. Then write a new post on your blog about why you chose the post that you did and what has happened in your life since.
I dug through this blog's archives and couldn't find a post that fit the bill. But I knew I'd written about Hope (that bi+ch). I finally found a few posts on a different blog, an early one that details my infertility journey. I found three related posts in which my relationship with Hope arcs and resolves over the course of 3 years.
Hope-less: Failure to Thrive. Today I began to die. I feel alone. I've tried to get over my dreams to have a family, and we've talked about some alternatives, but we don't seem to be able to pursue any. Now, the future literally doesn't exist for me.
Hope-neutral: Treading Water. The problem with the method of dying I've chosen is the time it takes to do it — weeks or months of willful dying when the body is programmed to live. I feel like the dark curtain has lifted, in spite of my best intentions, and I probably will survive this funk.
Walking away from Hope: Fertility, Take Two. Only after a painful and final breakup was I able to move forward. Deciding on another IF treatment would be like betting your 401K on a ground sloth that somehow wandered onto the track at Belmont…Such a firmly rooted dream is not easy to pull up and discard. My pillow is wet for months on end.
With that I began dealing with my world as it was and not as I hoped and wished it would be. I am now a mom to two amazing tweenagers, whom I have parented since Day 1 (give or take). Somehow, I managed to get everything I longed for — after resolving my dysfunctional relationship with Hope.
Click over to Time Warp Tuesday to read more posts about hope, and maybe even add your own (even if it's no longer Tuesday).