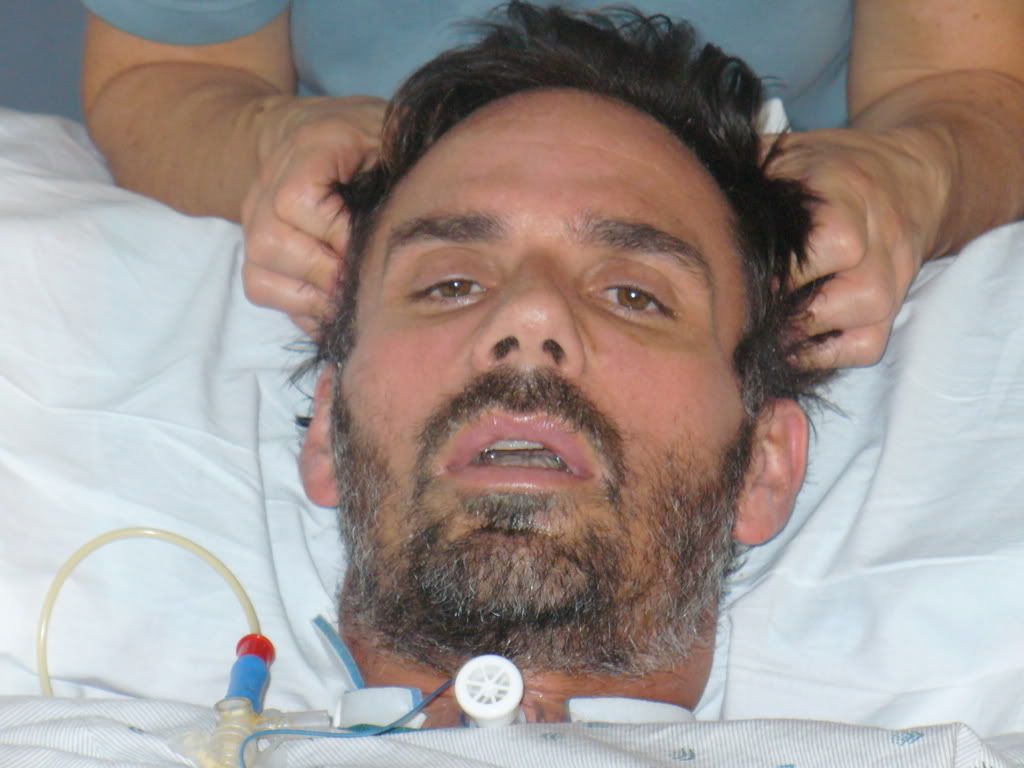 You know from this post that my brother-in-law, Gino, was stricken with Guillain-Barre Syndrome in February. What started as numbness in his hands and feet turned into full-body paralysis over the course of a few days. He was in intensive care for several weeks as machines kept his body functioning.
He's spent the last three months in rehab, learning again to speak, eat, move. (An aside: Gino and I have watched 2+ seasons of Six Feet Under during the nights that I sat with him — we're addicted. Not sure how we're going to work in this f-bomb-dropping show anymore, with our kids being around.)
Well, they kicked Gino out of rehab yesterday — he's well enough to come home! Friends contributed countless hours to making Gino and Tami's home wheelchair accessible. We hope his muscle functions continue to progress and that the wheelchair is soon discarded in favor of leg power.
So Tami is now nurse (giving meds), therapist (working what needs work) and tech (getting Gino from bed to chair to car, etc). On top of taking care of Gino, she will continue to take care of their adorable 2-year old son.
Tami's glad, I think, to be finished with the long drive to the hospital that she made sometimes twice a day. She's glad, too, to have both her boys in one home (they'd turned the hospital room into a home away from home).
But the idea of being the primary caretaker is daunting. I am so proud of how my sister has remained positive and energetic throughout this ordeal, an ordeal that might have broken a lesser person. Both she and Gino are inspirational as anti-victims — never once did either ask "why did this happen to us?" They just kept the faith and moved forward.
Right back into their home.